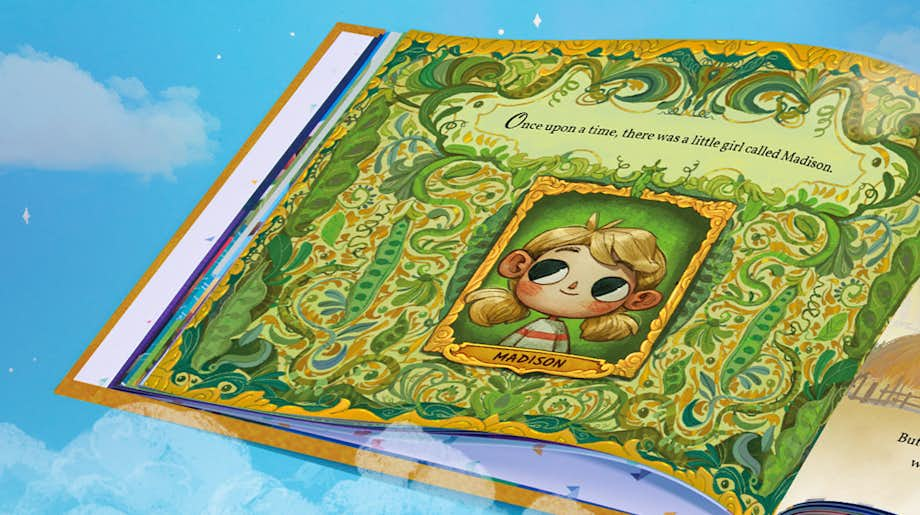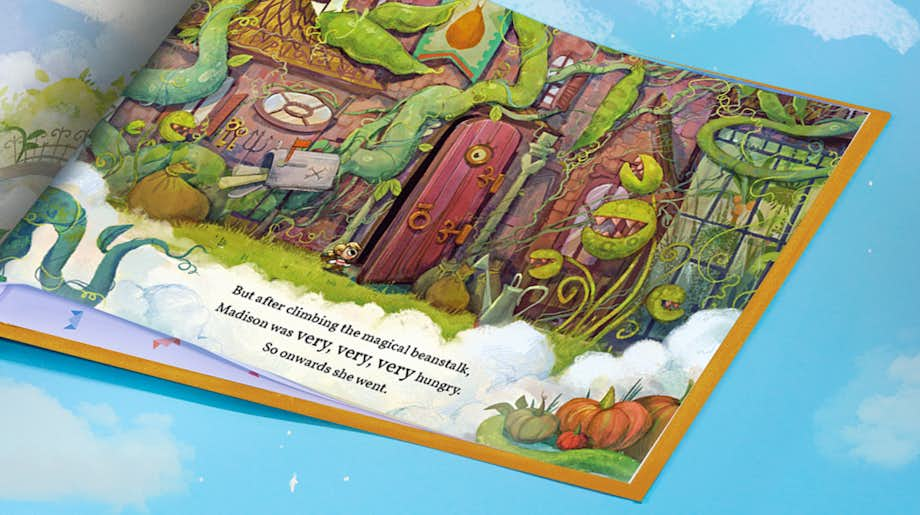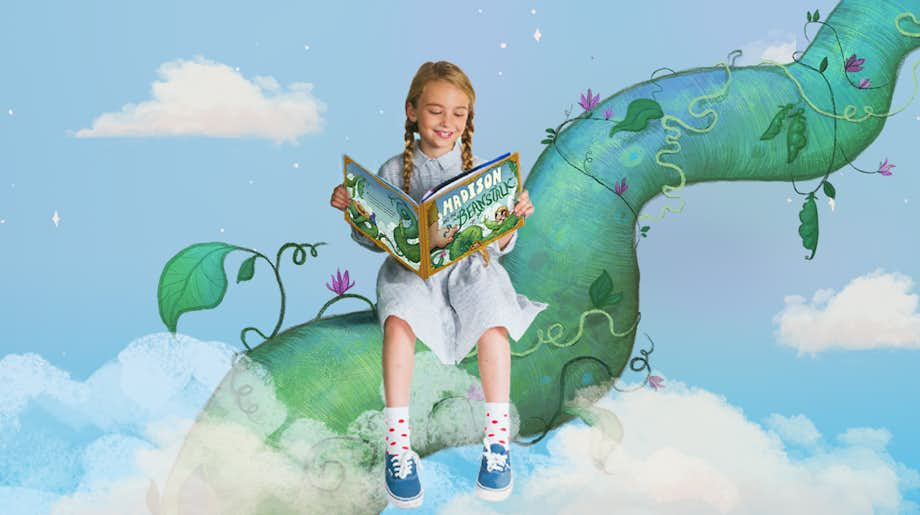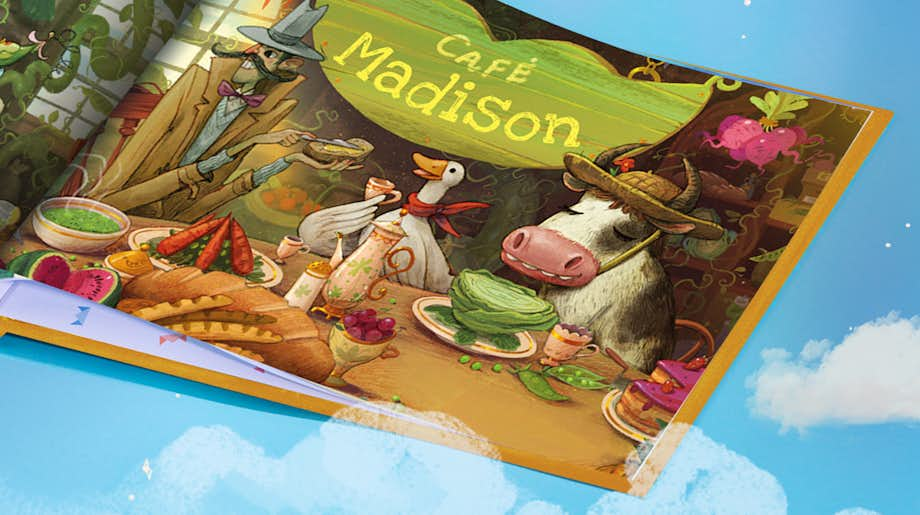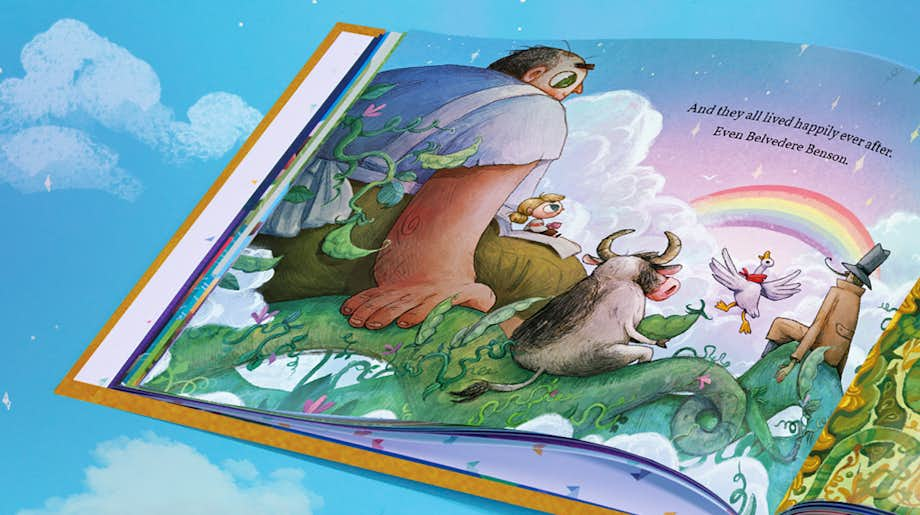 You And The Beanstalk
Escape to an enchanting world
The classic tale… retold! Turn a child into the hero of their very own fairytale adventure in this enchanting personalized book.
Recommended for ages 3 to 6
Preview all 36 pages before buying
Ships worldwide within 48 hours
"The joy of a kid seeing their own name as the hero is priceless." – Linda
Explore the whole book! Start by adding a child.
Choose the adventurer in your book
"I love giving these books to the children in my life. They think it's magic that the book is about them. The quality is excellent, the colors are rich and vibrant, and the stories are inspiring."
Loved by Cindy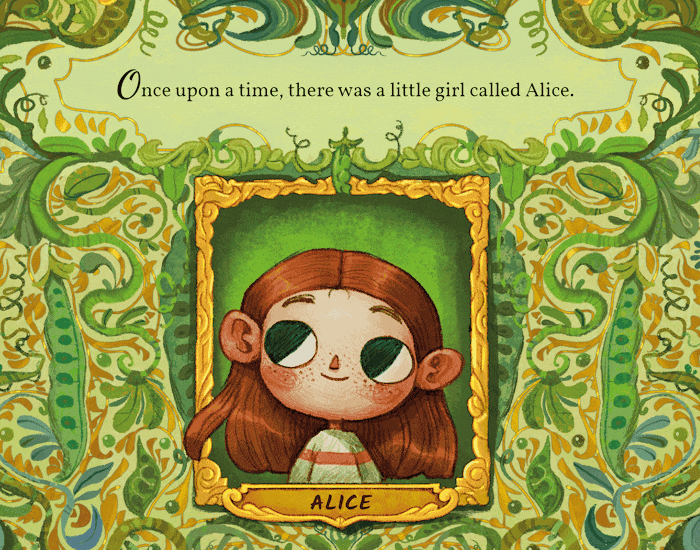 How is the book personalized?
Your child's name and character feature on every page – but that's not all! Each letter of their name becomes an item of food, which they use to put the hungry giant off the scent. So when the giant smells something beginning with M, a child called Mia throws a Mango, then an Ice cream, and an Avocado. Magic!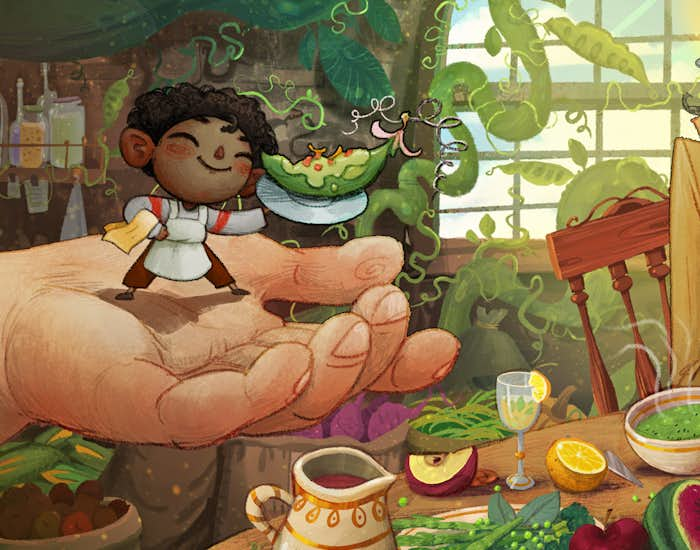 What's the story?
A young hero or heroine ventures up a beanstalk, where they must outwit a hungry giant. But in this version, there's a modern twist. Using courage, resourcefulness and empathy, your child helps the giant put his cooking skills to much better use. How? You'll just have to find out...
Quality and size
Each book is A4 (8.6" x 11.9") and 36 pages long. It's available in softcover or super-sturdy hardcover. We print on thick, luxurious paper that's partly recycled (FSC-certified) and built to last. So it's a fairytale that's good for the real world, too.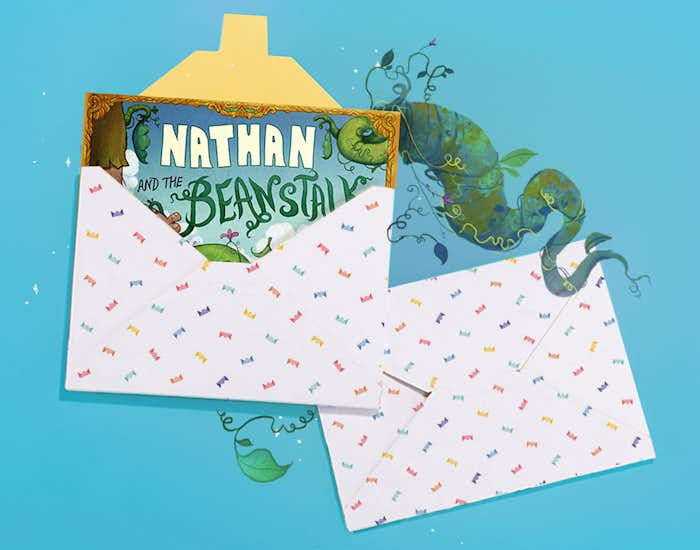 A timeless keepsake
When it comes to children's gifts, you can't get more timeless than a fairytale. Apart from… a personalized fairytale! Whether you're buying for a birthday, for Christmas, or just because, You And The Beanstalk is destined to be treasured by a child for many happily ever afters.
Reviews
Fantastic, magical books that my son and all of us love. Thank you for this. He is always excited to read his personalized books!
Colorful illustration, provoking imagination, encourage moral values, the best companion for every growing child.
Beautiful books with wonderful illustrations, stories, and vocabulary. Received one as a gift for my daughter and love it so much we will buy them as gifts for all our friends' children now.
Beautiful. Best gift I could have ever bought my granddaughters! Timeless keepsake.
FAQs
What age is this book for?
This magical children's book was written with kids from 3 to 6 in mind, but the classic fairytale setting means it can make a wonderful gift for a child younger or older than that. Rich in vocabulary, fairytale elements and a good dash of humor, the whole family will enjoy reading it bedtime after bedtime.
What occasion is best to buy it for?
We believe this is the perfect children's gift for pretty much any occasion. From birthday gifts to Christmas gifts to just because, it's a unique present that absolutely no other child in the world will have. And being a fairytale, it's a timeless keepsake that's sure to be treasured for many years – and even when they grow up!
How can I personalize the book?
• Child's first name: their name appears on the front cover, and throughout the story.
• Child's adventurer: we've designed six little characters to choose from, for both boy and girl. Select their gender, then choose from a selection of natural hair and skin tone options.
• Food items: Each letter of their name becomes a piece of food, which the child uses to throw the hungry giant of the scent.
• Your free personalized dedication message: Make your gift extra-memorable by adding your own dedication. We'll print up to 400 characters and 10 lines right at the start of the story, for free.
What morals does the book teach?
Although fairytales themselves are timeless, the morals they teach are sometimes… behind the times. So in our story, we've rewritten the ending to teach kids more modern morals. In this story, your child doesn't kill the angry giant. Lord no! They use their skills of resourcefulness and empathy to reason with him, and help him overcome his insecurities to open his own beanstalk cafe. The moral is that it doesn't matter how different you are or what you look like, it's what you do that's important.
More Wonderbly books to make your child feel loved
Get more clever ideas and swashbuckling updates